Sacrament ov Impurity (U.S.) Skinflint (Botswana) Opposer (Spain) Devangelic (Italy) FREE metal music: Devil Master (U.S.)
With all the stuff happening around the planet.
You got questions? We have answers.....Nah just kidding but this song might make you feel better!
From the perspective of someone outside of Africa and the continent's metal scenes, it looks like Skinflint is one of the bands making some real headway in terms of establishing a reputation for professionalism, reliability, hard work and regular recorded output.
It seems like they are a band that never disappears for extended periods of time and nobody is ever asking whatever happened to them because they are always working on something.
The latest work continues to dig deeper into the niche that the band has found over the years.
The mission is to play traditional heavy metal as honestly as they can, to be as genuine as they are capable of and to incorporate Botswana into the tapestry. The way that some people hear this band has been interesting. Some hear a certain Maidenesque reflection in the melodies. The recording and production has made others hear the values of the 1970s, in the relatively straightforward way that you can hear the guitar, bass, drums and vocals, without much distraction from the music.
The attitude of the band is that in general 4 they should play live the music that they record. If they cannot do it live, then that's not really a road that Skinflint wants to follow as a way of doing things in the studio. The idea is to be a band that does what it claims that it can do on the recording.
Skinflint is a live band. That's how they think. It also helps that they are good musicians, as the latest work testifies. Vibrant and rocking, with that certain Skinflint peculiar touch, a bit creepy, traditional heavy metal recorded to sound human, not robotic, and with songs that are aimed to please.
Now, some people have said that the band should "modernize" the sound, but there's nothing to make more clinical here; you can hear the drums, guitar, bass and vocals just fine.
The vocals, as usual, are something like a slightly freaky shaman of heavy metal. Maybe the bass guitar could come up a bit. You won't hear a thousand guitars. You can hear the guitar easily and at particular moments you can hear the rhythm track backing up the melody or lead. Most of all, this is the way the music is meant to sound. The previous albums sounded this way. The band does not need to change! They need more fans to discover the music.
Another solid work for Skinflint. puresteel-records.com/bands/view/259 facebook.com/SKINFLINTMETAL
We are not sophisticated enough plus we lack the composure, finesse to understand and enjoy the Love album.
Go figure. Explains alot actually...
Hear it for yourself and decide...
We did like 17. Scooba (Love) we don't get it but, it's fugly & wacky enough for us!
"This was a huge undertaking," explained Osborne in a press statement, "All three things: the album, the soundtrack and the film are benchmarks for us." Crover chimed in, adding, "A Walk With Love and Death is one giant, dark, moody, psychotic head trip! Not for the faint of heart. You'll sleep with the lights on after listening."
Special guest collaborators on the record include Joey Santiago of Pixies, Teri Gender Bender of Le Butcherettes/Crystal Fairy and Anna Waronker from That Dog. In support, Melvins will be on the road all summer long.
ALESTORM are back, and they've brought with them their 5th full length album: "No Grave But The Sea"! So put on your eyepatch and let the rum flow freely for the unstoppable international party machine.
Fuglymaniacs approves this album. Man this is a fun wacky pirate metal release. "Mexico" is a perfect example. 'nuff said!
Saturday June 24, 2017 we got invited to a birthday party show.
Continental club in midtown Houston,TX.
Noe Molina 32nd birthday.
Noe also happens to be a drummer in a band called The Heights Funk Collective. THFC was gonna close out the evening celebration.
There were other bands invited to play also. Dem and InDaSkies were included.
We happen to know some of these guys.
Louis Morales does guitar and vocals also for Dem.
The best part was watching Louis and Cam jam out with THFC and Noe. Like old times...
They did a different rendition on a classic. Classic to us at least. Cuarenta Veinte. Well done guys!
Line up changes has been a revolving door for these bands. Hopefully now they have found their footing.
Lots of familiar, friendly faces. Cam and Sam, the dynamic duo is always great to catch up with.
Good vibes all around....
We happend to catch some footage too.
So check them out.
Houston is a hotbed of talent for all genres. Tonight we are doing Raggae roots and a metalhead that happens to play drums on a Funk band. THFC.
How does a metalhead get in his death metal tendencies playing drums on a funk band?
See for yourself...
you strike like lightning and get back on cue.
Well done Noe! Happy Birthday....
Danzig - Black Laden Crown
The shirtless wonder is back from the dead. Black Laden Crown is the band's first album of original
material since Deth Red Sabaoth (2010).
One thing we learned from Glenn is that you never know what your gonna get.
The longest gap between two studio albums in his career.
The album took three years to complete apparently. Glenn Danzig and Tommy Victor did the heavy lifting. Three years is a long time to sit on material so this thing is either gonna be great or a stink bomb.
Needless to say, we were dissapointed with this release. Production is weak.
Danzig sounds loud and upfront while everything else sounds far behind. The Riffs are lame trying hard for the dark doom funeral vibe and the midtempo to slow pace is annoying after a while. The leads and melodies come in and out but are far behind.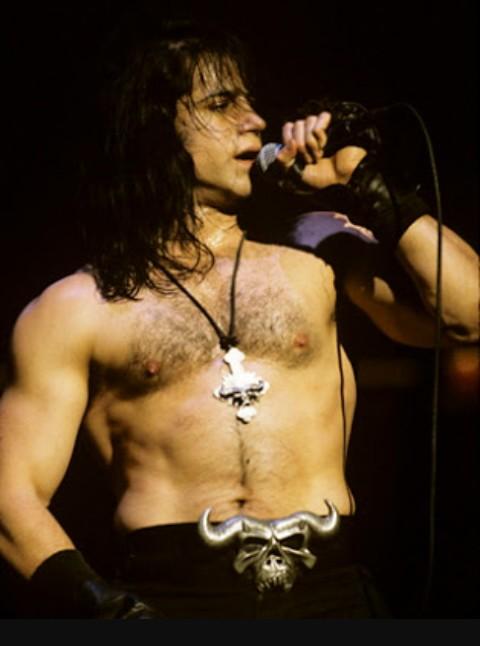 The Danzig voice is decent and he does pull this thing off.
However, is you are looking for the old powerful voice that is gone. He is old so it isn't fair to still expect it. NO, he does not sound horrible.
Overall there is a couple of songs we like but there okay at best..Black Laden Crown , Devil on Highway 9, Last Ride.
Shirtless wonder has no excuse for taking this long to do 9 tracks and make this his final cut. Love him or hate him Danzig is alive and well. Maybe next time in 2025. Mother*****!
Dream Evil - Six
Fredik Nordstrom has a great reputation around here. For his guitar skills and as a great producer.
Dream Evil was once a great band with a skill line-up.
Gus G, Snowy Shaw are long gone and their replacement are very capable on their own right.
However we can understand why it took this band this long to put out a release. It's been a 7-year hiatus since their last output - In The Night.
DREAM EVIL is:
Niklas Isfeldt - Lead Vocals
Fredrik Nordström - Lead Rhythm Guitars
Mark U Black - Lead Lead Guitars
Peter Stålfors - Lead Bass
Patrik Jerksten - Lead Drums
Expectations are always high for this band. They usually do a great job with their brand of power metal.
Dream Evil - Six is a huge dissapointment for us. The guitart work and production is great. They song writing and the structure is off on this one.
Antidote is a great example  "Antidote" is your sugar/cotton candy euro-power metal song, with trendy lines, fast double-pedal drums and Nordström shines, all while the choir band chorus thing is cheesy over done and toast at this point.
"Six Hundred and 66" is another However, you get 12 songs wrapped in almost 52 minutes, which gets tiresome fast.
This is a pattern on this album. Overly done and after a while you realize it feels like they are going thru the paces. The "fire" if you will is not there. At least it doesn't come across to us. Jerksten sounds bored midway thru this thing.
There are just too many fillers and mediocre songs here, making this a lame product!
childish lyrics and goofy presentation, which is becoming Dream Evil's trademark is now hurting this band and it might do them in. We'll find out in 2025.
Look forward to 2025 NEW Danzig and Dream Evil ..Oh yeah!
NOW. Where the hell is that new Striker CD?.
Linkin Park - One More Light
One More Light, the band's seventh album, is entirely unrecognizable. 
The band no longer resembles the nu-metal/rap hybrid who helped define a chunk of the early '00s in any form...
This thing is a disaster by all accounts. Nothing to hear here people. Keep it moving.
Havok - Conformicide
We been a Havok fan for a while now. Two simple reasons really, Fast and the direct approach with speed/thrash metal. Their first two releases "Burn" and "Time is Up" were excellent in our opinion. Now, some insist that band have to evolve into a mature sound. Old thrash and speed metal are dead and over with. We respectfully disagree and to quote the mighty Overkill "FUCK YOU!".
Havok claims that this is their Master of Puppets and some sites give it a 10/10. To those sites we say hey man are ya'll pushing their upcoming tour in 2017? just saying...
"'Conformicide' is our most dynamic, heavy, thoughtful, musical, and sonically-crushing album so far. All four members feel that this is the best Havok album to date. There are a lot of "truth bombs" being dropped on this record and the music absolutely rips!"
David Sanchez (Lead Vocals, Rhythm Guitar)
Went for M O P and landed on 'Souls of Black". YES, Testament's infamous god awful release from way back when...
Harsh maybe? We feel they are one album away from MR.IRREVELANT! Havok you're on notice.
We will admit the production is top notch. This is a funky bass driven, preachy album. Sanchez even tries to sing on "Circling the Drain". They do impressions of Exodus and Dave Mustaine. Hopefully Sanchez and the gang can get back on track on the next album
Winner, Winner Chicken dinner!
Dune Rats - The Kids Will Know It's Bullshit
Who the hell is the Dune Rats? Great question they are
three knuckleheads from Brisbane, Australia. They are inmature, snotty, rude and love getting high.
This album under 31 minutes long. It's silly, funny and just fun.
Braindead for example has lyrics like "sometimes I go blind staring at the sun" also 6 pack songs is about older siblings buying them beer. The bulk of the album is noisy, nasty, and straight to the point. Like Before song does touch a little bit on pop-punk area, briefly thou.
One can argue that they do mostly a three-chord stomp. Making sure to lay a thick slab of grungy noise with alot of attitude.
The point being getting high, wasted and acting a fool.
It's also full of really catchy songs like "Mary" and "Demolition Derby" they have youthful energy and charm. Dune Rats are are easy to like. Don't think too much just press play and turn it up!
Body Count - Bloodlust
Fuglymaniacs spends alot of time in the 'hood.
No really. seriously!? haha. Okay laugh if you want to but truth be told Ice T is a 'hood rat that made it out of the ghetto.
Body Count is a angry bunch of knuckle heads. They will insult you call you a dumbass and make no apologies.
This album is vicious and direct.
You will not need to ponder what the deeper meaning is here.
He tells you "bitch give me your purse or i'l fucking shoot your face off"...guest what? That what he means.
Many guest on this release. Dave Mustaine, Max Cavalera, Doc Coyle, Randy Blythe. Is this Body Count best album. Nope! but it's angry, heavy, even has a Slayer cover. Not a great cover but decent enough to enjoy. If the 'burbs is clouding your mind and you don't get it, that's okay.
The ghetto is real so you best stay away and enjoy that $7 latte you are sippin' on.
No Lives Matter, Civil War, The Ski Mask Way, This is Why We Ride...
Come on, step into the "hood from the comfort of your home.
DEEP PURPLE - InFinite 2017
Infinite is the 20th studio album. Their new album, "InFinite", the highly anticipated follow-up to their worldwide chart-topping effort "Now What?!"
Deep Purple is a pioneer with their sound and this is no exception. This album rocks. If that surprises you then you have been away too long. "Time for Bedlam" "Hip Boots" & "All I got is you" perfect examples of them doing what they do best... rock. The whole thing is great. Deep Purple delivers once again.
DEEP PURPLE recently announced their "Long Goodbye Tour", which will bring the legendary live show once again all over the world. The band has not yet answered the many questions received by fans from all over the world who are speculating about the meaning of the title "InFinite" and "Long Goodbye"
Bruce Payne, their manager, said, never say never.
They are currently touring for this album. We have seen Deep Purple before and they put on a great show. They always do their classics. Currently with Alice Cooper and Edgar Winter band. Line up looks decent.
We're are enjoying this quite a bit plus it has bonus tracks...YES! bonus- Paradise Bar, Uncommon Man, Hip Boots, Strange Kind of Woman.
There is a hidden meaning to the title apparently we will spare you the details on this being their last tour not really last tour unless we make a load of cash then it's on..again.


Thunder - Rip it up
Rip It Up is the eleventh studio album by hard rock band Thunder and the follow-up to their 2015 album Wonder Days.
The album was released in the UK on 10 February 2017 and entered the UK album chart at number three, giving the band their highest placing since their 1992 album Laughing on Judgement Day.
Who the hell is thunder you ask? Great question. Same question we asked...
We are so late to this party it seems. Missed it by a few decades it seems, How is it possible that our filter did not catch this band back in the days. Well it turns out they had a good following in the UK & Japan. On this side of the Atlantic not so much.
Heres Thunder 101 via Wikipedia:
Thunder are an English rock band who play hard rock and heavy metal. They formed in 1989 when the band Terraplane broke up, leaving lead singer Danny Bowes and guitarist/main songwriter Luke Morley to form a new group, namely Thunder. Retaining Terraplane drummer Gary James (popularly known as 'Harry' James), they completed the line-up with bassist Mark 'Snake' Luckhurst and guitarist/keyboard player Ben Matthews. Though the band's main area of support has remained their homeland of the UK, they also enjoy significant success in Japan. Current members
Danny Bowes – lead vocals (1980-2000, 2002-2009, 2011-present)

Luke Morley – guitar, backing vocals (1980-2000, 2002-2009, 2011-present)

Ben Matthews – guitar, keyboards (1989-2000, 2002-2009, 2011-present)

Chris Childs – bass (1996-2000, 2002-2009, 2011-present)

Gary 'Harry' James – drums, percussion (1983-2000, 2002-2009, 2011-present)
This band has had more breakups and reunion than anyone can keep track off...
This bands has the classic rock sound down. Maybe that's because they have been around a long time. "Rip It Up" is a great release. This album rocks. It has great vocals and the lead melodies are abundant. The riffs are familiar. The keyboards gives it a 70's feel on some of the songs.
Songs like 'Shakedown' and 'Tumbling Down' ' The Chosen One' are just some examples.
Power ballads are here too. 'Right From The Start' and 'In Another life' are great.
Overall we enjoyed the variety available to the listener with all the different songs. Do yourself a favorite and get this, turn it up. Road trip!
Tambourine, Cowbells and those keyboards make this a winner winner chicken dinner!
Iron Reagan - Crossover Ministry
Iron Reagan :
Tony Foresta – vocals Mark Bronzino – guitar Phil Hall – guitar Rob Skotis – bass guitar Ryan Parrish – drums
Crossover Ministry is the third studio album by American crossover thrash band Iron Reagan, released in 2017 by Relapse Records
Iron Reagan is an American crossover thrash band from Richmond, Virginia, consisting of Municipal Waste vocalist Tony Foresta and bassist Land Phil, former A.N.S. guitarist Mark Bronzino, former Darkest Hour drummer Ryan Parrish, and Hellbear bassist Rob Skotis. Since 2012, they have released 3 full-length albums and an EP.
Now that you are caught up....We are enjoying this alot. We love the subject matter and the speed. Clear to the point and quick with the insults. Short songs and a quick listen. coming in under 30 minutes. Our kind of crossover. This is familiar stuff guys. Yes!
No bagpipes or tubas here people. Just fast, angry bitch slappin' circle pit anthems. YES! we love this...Iron Reagan has 2017 by the balls.
listen for yourself: Your WECOME!!
The duds are in so far...
As a Ratt fan from the 80's we are familiar with his voice and sound.
Stephen Pierce - Smash is a dud.
This thing has no energy.
He sounds tired and his voice is shot!
Yes, we said it since nobody else will. Songs are slow and riffs are too familiar. Nothing to see or hear here. Lets keep it moving.
Vendetta - The 5th.
Vendetta is a thrash metal group from Schweinfurt, Germany. Founded in 1984, The have two classic albums, which by the way if you don't have and like german thrash from back then you will enjoy for sure. 1987 – Go and Live... Stay and Die 1988 – Brain Damage.
This Vendetta however is the Klaus "Heiner" Ullrich project. He played bass on those albums.
YES! Vendetta is back. NO, it is NOT! this thing is like cruel joke. This thing fails in all fronts. Don't bother.
The following albums come with a disclaimer...Yes, this is a genre that won't go away any time soon in fact it seems to be getting bigger by the minute. Go Figure?
Majesty - Rebels 2017
Majesty is a german band  Tarek "Metal Son" Maghary is the guy in charge.
They are on a mission to keep  True Metal alive. Not being familiar with Majesty and not knowing what to expect we gave it a listen.
We will tell you that is you like your power metal with that epic over the top sound and the keyboards on the driver seat with killer production, well this is it.
This albums has those epic hyms with all the band doing background vocals . "Die Like Kings" is a prime example. The guitar licks are fast and furious.
This is the best crafted release we heard so far this year. Mastermind Tarek promises his fans even more powerful riffs, even more hymn-like refrains and a production, that blows everything away relentlessly!!" And the man is right. "Rebels" recorded in the band's own studio and refined by the mixing and mastering of Frederik Nordsträm in the Studio Fredman, "Rebels" is the fundament for Majesty 2.0".
There you have it guys. Refined is correct. Like cotton candy this thing is layered more than a wedding cake or a quinceanera! Neverless if you like your metal sweet and sticky than you will love this. "YOLO HM" seriously? too funny.
Don't expect this guys to play this stuff live. Some pre recorded stuff has to be funnel in.
The only thing missing was a tribute to the old school...
I see a little silhouetto of a man
Scaramouch, scaramouch will you do the fandango
Thunderbolt and lightning - very very frightening me
Gallileo, Gallileo,
Gallileo, Gallileo,
Gallileo Figaro - magnifico

But I'm just a poor boy and nobody loves me
He's just a poor boy from a poor family
Spare him his life from this monstrosity
Easy come easy go - will you let me go
Bismillah! No - we will not let you go - let him go
Bismillah! We will not let you go - let him go
Bismillah! We will not let you go - let me go
Will not let you go - let me go (never)
Never let you go - let me go
Never let me go - ooo
No, no, no, no, no, no, no -
Oh mama mia, mama mia, mama mia let me go
Beelzebub has a devil put aside for me
for me
everything else Majesty - Rebels has you covered.
Battle Beast - Bringer of Pain
Battle beast - Bringer of Pain. This is thing is right up your alley is you like their previous material then your gonna love this.
The screaming vocals with Noora Louhimo are great and the music rocks.
Our issues are many. It's rocking one second then we hear the mandatory background vocals from everybody "bringer of pain" is just one example.
Keyboards don't want to be left out so he goes for that grand sound with the synth and that epic brackground crap.
They cover alot of ground once again. ballads,disco? anyways, we don't like keyboard solos damn it!
Bloodbound - war of dragons.
NO, this not a typo.
Bloodbound had a release back in 2011 Unholy Cross which we enjoy quiet a bit.
After that we couldn't get back on the saddle with these guys.
If you like their catalog then you will love this for sure.
Bloodbound has ALL the elements you will love typical Bloodbound elements bombastic twin guitar riffage, equally large and embellishing orchestral synths, immense, often choral-like, vocal arrangements and, of course, massive soaring guitar solos. It's all good, if you dig it.
We'll pass! we like our iced tea unsweetend
Crystal Viper - Queen of The Witches
Glad to see Marta Gabriel fronting Cystal Viper again. Her voice kicks ass. This release will be a delight for their fans.
Dud for us! Issues we have are same ones with have with this genre. Trying to cover too much ground. Couple of Ballads that seem out of place. If you like Crystal Viper this will be right up your alley.
Surprising releases so far. Fuglymaniacs approved! ...
Jack Russell's Great White - He saw it coming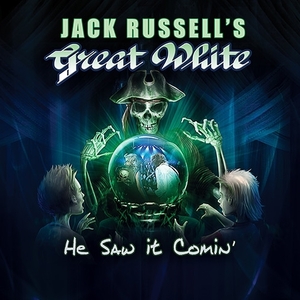 What the hell is going on around here. Who is writing this shit? Jack Russell's Great White, really? take it down, this is embarassing.
Oh wait, let me listen to this. Jack's voice is still intact.
After all that drug abuse. How is this guy still alive, anyways?
He sounds good and that music sounds effortless. It's just plain rock and roll with a bluesy sound in some areas. Licks are quick and on the mark.
Band Members:
Jack Russell (Vocals)
Tony Montana (Guitar)
Robby Lochner (Guitar)
Dan McNay (Bass)
Dicki Fliszar (Drums)
Montana - "Everything was based in blues. We want to add to that legacy with new material preserving those timeless elements."
Montana - "It's got the classic sound. The first element is Jack's voice. No other band sounds like this one ever did or does now. I was a fan before I ever joined the band. We're going to maintain that same integrity going forward."
We are still enjoying this.
Our second surprise is ....Firewind - Immortals.
A lot of people hold Gus G in high regards for his guitar playing.
He stays busy and Firewind is his baby when time allows it.
We never cared that much for him and this project.
Band Members:
Gus G. - Guitar
Henning Basse - Vocals
Petros Christo - Bass
Bob Katsionis - Keyboards/Live Guitar
Jo Nunez - Drums
So when we played it expectations were none existing. Maybe that's why we were pleasantly surprise to enjoy this.
High energy, strong vocals, shredding high and low with lightning speed. keyboards are kept in check. Bob is kept in the reservation most of the time. He does wonder off a bit but quickly whipped back into shape. This a huge selling point for us.
Keyboard driven power metal drives the fuglymaniacs insane!
They say this on their facebook page about the idle time...
Main man Gus G. has released not one, but two solo albums, toured in support of both of them and hit the road once again with the 'Prince of Darkness', Ozzy Osbourne.
His fellow Firewind band mates have also been far from idle too; but despite the prolonged break in activities.
Firewind was always going to return and 2016 will see the band back and blasting on all cylinders!

The band will return with live activities and a new singer. Henning Basse, a long time friend and collaborator of Gus' is the man trusted to bring Firewind back to the masses.
His rich, classic rock referencing vocals are the perfect foil for the wealth of material the band have been working on and he brings a reinvigorated power to the band.
There are those bands that keep it real steady for the most part (Kreator you're on notice) and we have two so far....
Grave Digger - Healed by Metal
After 30+ years of metal this band stills delivers.
History 101:
Chris Boltendahl together with Peter Masson and Phillip Seibel. They founded the German metal band Grave Digger as a teenager in Gladbeck .
In the beginning, Boltendahl was not the singer but the bass player of the group. 
Only a few weeks before the first record contract, he was thrown out of the band due to internal disputes, but shortly afterwards he was taken back to play on the first record called Heavy Metal Breakdown as a singer. 
Since then, he has also been the vocalist of the band. 
When, between Boltendahl and guitarist Uwe Lulis at the turn of the century, there was a dispute about the rights of use on the band's name, the group was on the verge of dissolution. 
Lulis, however, lost the fight and Boltendahl could still claim Grave Digger as a band name. Today, Boltendahl is the only remaining founding member of the band.
Healed by Metal is another solid release by Grave Digger Chris still sounds good. No, he doesn't sound like a that strapping young lad from the 80's.
It has some funny/cheesy song choruses like "Hallelujah".
Laughing With The Dead - is another one.."hahaha"
If you are a Grave Digger fan than dig right in and enjoy!!
Band Members:
Chris Boltendahl – vocals (1980-present); bass guitar (1980-1983, 1985)
Axel Ritt - guitar (2010–present); live (2009)
Jens Becker – bass guitar (1997 – present)
Stefan Arnold – drums (1996 – present)
This is the first album to feature new keyboardist - Marcus Kniep
Kreator - Gods of Violence Gods of Violence
The fourteenth studio album by German thrash metal band Kreator, released on January 27, 2017. It is the band's first studio album in almost five years since 2012's Phantom Antichrist, marking the longest gap between two studio albums in their career. Current line up:
Miland "Mille" Petrozza – vocals, guitar (1984–present)
Jürgen "Ventor" Reil – drums, vocals (1984–1994, 1996–present)
Christian "Speesy" Giesler – bass (1994–present)
Sami Yli-Sirniö – guitar (2001–present)
It should come as no surprise that this album is in classic Kreator form.
This album is heavy on the melodies and has a power metal flavor to it. If it wasn't for Mille's vocals it could be.
It is not all thrash all the time. It's a solid release. We are enjoying this.
It is not a masterpiece or ground breaking as some would like you to believe. Kreator still delivers. enjoy!
Needless to say Kidd has a great following with great people that want him to have a speedy recovery. So we headed that way in support of the local punk band. There alot we can say about Kidd & The Hates, Their influence on the local Houston scene since the late 1970's. So instead we'll give you some links and knock yourself out.
Three bands volunteer their services for this special events.
The Hates footage has a special guest on one of the song plus, he was showered with cash...YES! somebody made it rain on Christain. NO, he did not strip down and no stripper pole. Just having some PUNK FUN!
Screech of Death - Screech of Death was formed in October 2013 by J.R. Delgado, Arthur Hays & Lisafer (Lisa Pifer).
There was a desire for the guys from Texas to play "Southern California Punk Rock with a Texas Twang" with the girl and so a band was born in the garage. - (fb page)
We can tell you they are seasoned punk rock veterans and it shows. Above all, they look like they are having fun.. Keep and eye for these guys and catch 'em live ....
Texas Mod Crushers - Founded 2011 These guys been around and they man business and they dress the part too. Looking sharp in there jeans and suit jacket along with their thundering sound. Make no mistake they a punk band!
Texas Mod Crushers invited the guest of honor of the night Christian Kidd to do a song with them. Kidd in return extended the invite to one his student Paisley (Hopefully we got her name right) and did a cover of The Ramones - "Sheena Is A Punk Rocker". Now, how cool is that.