Overkill singer Bobby Blitz reveals: "I don't actually like thrash" by MMB
but continues in the band because "D.D. has promised me one day we will write funk songs"

(Picture of Bobby in his funk gear )
"I thought I had joined a funk band," he says.
On how he came to join the band
"I auditioned because a friend told me that a funk band was auditioning singers. And so I did. I mean, it was weird because I was not expecting a bunch of hippie-looking dudes. I expected a cool bunch of cats into funk, you know, a bunch of brothers who wanted to get down with the jams."
"I started to sing and put on my smooth moves, man, and these guys thought it was great stuff. I was surprised that they liked my dancing, my splits, me grabbing myself in inappropriate ways and just getting my groove on, man."
"I said to them, 'So, what type of funk will this be? Some old school, dirty funk, like the old days or the newer, slicker type of funk that the ladies love so much?"
"They told me that they were a metal band, that played thrash, but I had no clue, really. So, I said, alright, I will join with you guys as long as you promise we will also do funk songs."
D.D. Verni elaborates: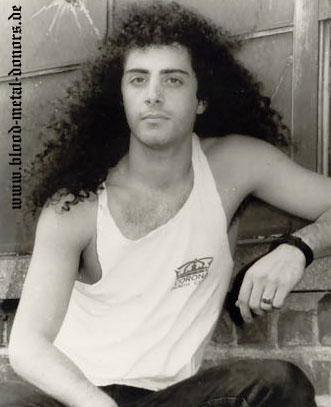 "Well, our plan was always to add funk songs to our catalog and keep adding funk songs until that's all we played. Also, we wanted to keep Bobby happy. So, we wanted to transition to funk. And that is still the plan, brother man!! Our plan is still to be a funk band. We are just waiting for the right time." Bobby says "I don't actually like thrash. I mean, what is this thing, with loud guitars and moshing? What is moshing, anyway? It's just weird.I have stayed with the band because I know that we all want to be a funk band and soon we will start using our funk songs. We have lots of funk songs written already."
Here are the funk songs they have written and that are ready to go for the next album, which will be called "Funk You."
(The title, of course, is a nice transition between the old Overkill of thrash and the new and exciting Over Kill of funk.)
(OverKill fans totally get the title.)
Bobby explains the songs: "My Body Is Sweaty and Sweet"
"It's an autobiographical piece about the lusciousness that is my body and the deliciousness that is somebody else's body and the magic we create together, on the dance floor, and everywhere. Ladies will love it."
"Mean, Lean Dancing Machine"
"All the funk songs by Over Kill are essentially for our love of dancing, getting our groove on, sliding on the floor, and just being smooth."
"Last Call, Booty Call"
Interesting story, this one. I was at the local club, with my friend Jay Z, and J.Lo and their posse of 1500 security personnel. We were hanging and talking. And all of a sudden, I realized that what the club needed was some funk. The hip hop and the techno, that's ok, alright, no problem. But when you bring in the funk, brother, the real funk, that funk that makes you booty move, that's when things get real, man. And when the booty move, that's my time. Don't gotta do much to get the love. You feel me?"
"Get Out of My Dreams, Get into My Car"
"This is a cover of Billy Ocean, but we have funked it up really good. Billy's version was a little too nice, if you catch my drift. We have taken it to the next level. It don't get funkier that our version. You hear our version, and it's like, booya, Over Kill just got you good. You ain't never gonna come back from this one, brother man. You will be down and out, knocked out by our funk. Over Kill scores and you down, you down, man."
"I'm a Sexy Bitch"
This is me just letting you know the drill, baby. It's what I do, I get hot, I dance, the ladies go crazy, the boys go crazy, the old people go crazy. It's just me being me, getting my message across. Plus, we want people to know that Rick James is a punk. Ain't no Rick James here! This Over Kill right here. When we roll into your town, you best bring your A-game."
On the future of OverKill Bobby says that he is willing to play thrash for the next 30-50 years, but after that, he will definitely insist that they start playing the funk songs he has always wanted them to play.
"That's it, man," he says, "I've got to start being myself soon, by playing funk. I will play thrash for no more than 50 more years, and after that, it's on, it is the time to get funky. And we will. We absolutely will get the funk on."
THE END.
© Copyright 2011-13 | designed by M & J