Fuglyspin MMB caught up with legend thrashers War Remnants as they Celebrates 30 Years of Trendkilling Thrash, Except for the Times They Split after Jumping on a Few Trends
This weekend in our great city of Springfield the legendary thrash band War Remnants will celebrate its 30th anniversary with a concert at their favorite bar Home of Rock where they have played shows for many years. The band says, "Thrashers and moshers of Springfield! We are so stoked to celebrate 30 years of thrash with you!"  
The venue has been promoting the show.  
Metal María, the band's biggest super fan, says, "I already bought my tickets! War Remnants is true old school thrash from back in the day! They hate posers and fakers.  I have been a fan for years!"
When asked how she became a fan, Metal María explains: "Well, the singer Jamie is my brother, so I have always worn their shirts and stuff. Even if I don't like the music that much, I have to support my brother's band, you know? Me and my dad we try to support the band. Jamie doesn't have any employable skills, so his band needs all the help that they can get. "
Another big fan of War Remnant is Paul, an old classmate of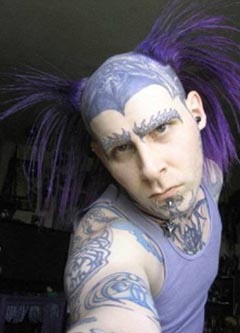 the drummer Kevin. "Yeah, man," says Paul, "we go way back! I have known the band from before they had the band. I remember when they were a hard rock band until when they noticed that thrash was getting big in the 80s and they decided to change to thrash to ride the wave back them. They were active from 1985 to 1988, when they saw that they were not going to make it, they broke up. Those three years of thrash were awesome!" says Paul. 
Paul is an alcoholic and doesn't have a job. He hangs out at the local 7-Eleven and asks high school kids if they have beer. Paul gets arrested a lot.
Today Paul is hanging out with Kelly, who is also an alcoholic. Kelly remembers some good stories about the die-hard thrashers known as War Remnants. She says that, "War Remnants is all about defending thrash 100%. They were a great thrash band from 1985-1988. Personally, I don't count it against them that they were the glam rockers Sleazy Boys before they changed their name and style. Once they became a thrash band, they were very loyal to the genre and they had a  good motto: Thrash Forever, Thrash Is Our Religion. 
Then, they broke up in 1988.
I
n the 1990s they tried to make a comeback as a grunge band, and they were called Jewel Tune, but it did not work out, and so they broke up again."
Kelly also points out that, "In the late 90s they saw that thrash was making a comeback and they got together again. They played a few shows here and there for a couple of months."
At this point, Paul jumps back into the conversation. "In 2015
they recorded a new album called Thrash Is Our Life. It's a home-recorded album. They are definitely committed to thrash and it shows. Anyway, we are excited to celebrate 30 years of thrash this weekend with the band! They represent what thrash is all about! 30 years of thrash, man!"
When asked how long in total has War Remnants been together as a functioning band, the fans say:
"I think it's probably around five years," says Metal María.
"Maybe four or five," says Kelly.
"Hey, do you have some beer," asks Paul.
When a reporter mentions that this is a celebration of 30 years of thrash, the bar owner says: "It is gonna be awesome! They are a bunch of good dudes. Honest and down to earth. 30 years, man! They used to play hard rock 1980s. Well, they were together from 1985 to 1988. They broke up. They tried to make a grunge album in the 90s, but it didn't work. Then they did some reunion shows in the late 90s in this bar. Then, they reunited again in 2015. Now, it's real, they will even play a few shows in Europe. Last year they played a show in Romania. There were more than a 100 people, there! Well, it was during a big soccer game in a bar and people were there to see the game, but I'm sure some of the people must have seen War Remnants play!"
The band is known for its honesty and integrity. At the show the band, will be selling shirts that say: 
War Remnants
30 Years of Thrash and Counting
Jamie, The band's vocalist states, "We have been doing thrash for 30 years and despite all the false trends, we are here ready for 30 more years! We will never change our thrash style!"
The day of show the band will be signing autographs for $50, shaking hands for $50 and giving hugs for $75. These thrashers' motto is: "The fans are number 1 in our hearts!"
As a special gift, fans can get all three: an autograph, a handshake and a hug for just $200.
It is time to mosh in the thrash zone!